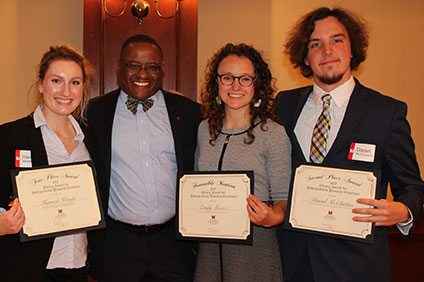 Libraries research award honors four undergraduates
By Vince Frieden, strategic communications coordinator, University Libraries
Recognizing that great student research goes hand in hand with knowledgeable use of library resources, the Miami University Libraries have announced four honorees for the 2017 Libraries Award for Undergraduate Research Excellence (LAURE).
"We are very pleased with the quality of the more than a dozen entries submitted for the award," said Jody Perkins, digital scholarship librarian and chair of the LAURE selection committee. "While the winning entries represent a true cross-section of the types of research taking place across campus, the common thread is how each of these students deepened their research experience through the extra time and effort they invested in using the University Libraries."
The four honorees are as follows:
Hannah Woods, a senior psychology major, captured first place with her project, entitled "Lifetime sexual violence and alexithymia: The mediating role of dissociation, thought suppression, and shame." The research project was conducted as part of Woods' PSY 477 course, with Terri Messman-Moore, Ph.D., the sponsoring faculty member.
 

Daniel McClurkin, a senior double majoring in English literature and anthropology, earned second place with his ENG 477 project, entitled "Imagining the plague: Defoe and the political life of pestilence." Cynthia Klestinec, Ph.D., served as faculty sponsor.
 

Emily Moroz, a junior majoring in integrated English language arts education, earned honorable mention for "The history of the body: Concepts and care," which also was sponsored by Klestinec.
 

Tasmeen (Shiny) Weerakoon, a senior majoring in biology and cellular, molecular and structural biology, received honorable mention status for her biology departmental honors project, "Investigation of a mitochondrial twin arginine transport in Arabidopsis Thaliana." Carole Dabney Smith, Ph.D., and David Pennock, Ph.D., served as Weerakoon's faculty sponsors.
"As research becomes an increasingly prominent part of Miami's undergraduate experience, the University Libraries want to be very intentional in supporting student researchers," Dean and University Librarian Jerome Conley said. "Not only do we want to offer the expertise, scholarly resources and technology for all students to pursue their academic interests, but we also want to highlight select students as examples of how tapping into library resources can help produce exceptional research outcomes."
The annual award, co-sponsored by the Libraries Student Advisory Council, offers both scholarly recognition and cash prizes. First place earns $1,000, second place receives $500 and honorable mentions receive $100 each. The award, which started last year, builds on a renewed University Libraries' research focus that began with the Office of Research for Undergraduates (ORU) moving to King Library in 2014.
Provost and Executive Vice President for Student Affairs Phyllis Callahan will present the awards and briefly address the importance of libraries in research at Sunday's Libraries Student Recognition Dinner.
The award-winning entries will also be included as examples of exceptional student research within the University Libraries' Scholarly Commons.